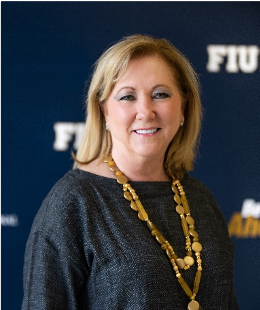 Sandy Gonzalez-Levy
Senior Vice President, External Relations, Strategic Communications & Marketing
---
Phone: 305-348-7236
Email: gonzals@fiu.edu
Organization: Florida International University
As the senior vice president for External Relations, Strategic Communications and Marketing, Sandra B. Gonzalez-Levy manages all internal and external strategic communications, marketing, media, public relations, protocol and special events and community relations, including oversight of Florida International University's (FIU's) 100+ member community board, the President's Council. She is the lead contact for the university's efforts in eMerge, the President's Council Fostering Panther Pride Initiative and serves as co-chair of the university Interdisciplinary Disaster Task Force (IDTF).
Formerly, she led the university's expansion project and coordinated FIU's relief efforts related to the Haiti earthquake as chair of FIU's Haiti Initiative. She also served as a lead and co-chair for FIU's United Way campaign for eight years. Mrs. Gonzalez-Levy formerly served as the executive director of the FIU Foundation, Inc. Board of Directors, where she managed the corporate affairs of the foundation and served as the liaison between the board and the university.  She was responsible for managing relations with the FIU Alumni Association, with over 22,000 paying members and 160,000 graduates, and its Board of Directors. Through October 2008, she also served as interim vice president for university advancement where she managed all fundraising activities of the university and raised over $52 million (including state matching funds) in one year.
Mrs. Gonzalez-Levy joined FIU in July 2007 from Terremark Worldwide, Inc. where she served as senior vice president of corporate communications. Mrs. Gonzalez-Levy was responsible for all facets of internal and external communications, including public relations, investor relations, community relations, advertising and marketing for Terremark and its subsidiaries.  Terremark was the leading operator of the integrated Tier-1 Network Access Points (NAPs) and best-in-class network services, and the owner and operator of the NAP of the Americas, which was sold to Verizon in 2010.
Prior to joining Terremark, she was president and chief executive officer of the Miami-Dade Community College Foundation, Inc., the direct support organization of Miami-Dade Community College, the largest community college in the world.  In this capacity, Mrs. Gonzalez-Levy provided leadership in designing and implementing strategies for increasing private financial support and managed over $56 million of Foundation assets. 
Mrs. Gonzalez-Levy was group senior vice president, and public relations director with Barnett Bank, N.A., where she was responsible for internal and external communications, community relation, special events, contributions and sponsorships.  Previously, she was senior vice president of the Greater Miami Chamber of Commerce, in charge of the international economic development and Hispanic business departments. She currently serves on numerous boards such as the Orange Bowl Committee, Facts About Cuban Exiles and the Greater Miami Chamber's Board of Trustees.
She holds a master's degree in business administration from Barry University.